Another Tuesday, another Top Ten Tuesday. For those who don't know, Top Ten Tuesday is a weekly meme created by the book bloggers and list lovers, The Broke and the Bookish, and each week they post a topic for bloggers to respond to.
This week's theme is: All About The Villains. That's right – we all love a good villain, right? There's something strangely enjoyable (if a little worrisome) about seeing a really charming or entertaining villain enjoying themselves. Even if "enjoying themselves" equals the destruction of something. Like I said – worrisome.
Because I do like villains so much, I thought I'd put together two lists – one of film/TV villains and the other their bookish counterparts.
Warning: The answers below contains spoilers for the books Rebecca by Daphne du Maurier and The Bone Season/The Mime Order by Samantha Shannon. Also spoilers for the film Frozen… and definitely heed that warning because that reveal actually made me gasp loudly in the cinema. Don't look if you don't want to know who the real villains of the piece are!
Without further ado, let's see these despicable characters…
Bookish Villains
Satan (

Paradise Lost

)

Iago (

Othello

)

Bellatrix Lestrange (

Harry Potter

series)

The Dane Twins (

A Darker Shade of Magic

)

Rebecca (

Rebecca

)

Count Olaf (

A Series of Unfortunate Events

)

Jaxon Hall (

The Mime Order

)

The Darkling (

The Grisha

trilogy)

Nashira Sargas (

The Bone Season

)

Richard Roper (

The Night Manager

)
From the outwardly sadistic (looking at you, Bellatrix and the Dane twins) to the narcissistic bastards (looking at you, Jaxon) to the downright despicable profiteers (yes, you, Richard Roper), villains in books come in all forms. From the seminal Satan who, in Milton's Paradise Lost, is pretty damn compelling (you can't help but root for him) to the malicious Iago from Shakespeare's Othello who just seems evil for evil's sake, villains can be outwardly cackling or delightfully sneaky. Villains can easily appear as anti-heroes or, depending on your perspective, the heroes of the dark side.
One of the most subtle villains is the eponymous Rebecca from Daphne du Maurier's famous novel – at first, Rebecca is the angelic epitomic female, then the truth comes out. Is she really a villain? Or is she portrayed as the villain simply because she is deviant from the expected modes of femininity? That's a question for a literature essay… no, really, it is, I did a project on it, haha. From the earliest appearing villains on this list to the most modern, I do love me a well-crafted villain.
On-Screen Villains
The Thénardiers (

Les Misérables

)

Loki (

Marvel Cinematic Universe

)

Hans Landa (

Inglourious Basterds

)

Hans Gruber (

Die Hard

)

Hans (

Frozen

)

Weeping Angels (

Doctor Who

)

Grima Wormtongue (

Lord of the Rings

trilogy)

Kilgrave (

Jessica Jones

)

Mother Gothel (

Tangled

)

Cutler Beckett (

Pirates of the Caribbean: At World's End

)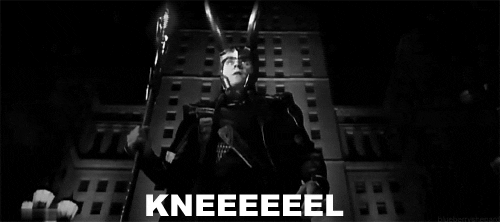 As you can see from the above list, I like my villains in all forms, from the cackling sort to the more subtle, morally grey characters. Some of them don't seem quite as despicable as the Big Bad in each of these films/TV shows (i.e. Cutler Beckett and Grima Wormtongue) but are, in fact, insidiously creepy and villainous. Likewise, Kilgrave and Loki are of that annoying school of villainy where they actually can be incredibly charming, but it's for malicious ends, even if they probably thinks they're the good guys really – the best villains aren't villains in their own heads, after all!
Also there seems to be something apparently weirdly villainous (and probably ever so slightly xenophobic) about the name "Hans"… no comment. The Thénardiers make the top of my list simply for the despicable (but extremely sing-along-able) song 'Beggars At The Feast', particularly the lines: "Watch the buggers dance / Watch 'em till they drop / Keep your wits about you / And you stand on top! / Masters of the land / Always get our share / Clear away the barricades / And we're still there!" That's pretty damn morally questionable, I'd say.
---
That was my Top Ten Tuesday featuring some of my favourite villains.
Do any of these villains feature on your Top Ten list?
Do you agree/disagree vehemently with any of my choices?
What do you think makes a good villain?
Comment below/link your own post below if you have one – I'd love to read it!
---
Goodreads | Twitter | Tumblr | Instagram | Bloglovin'